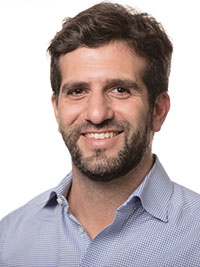 A fireside chat with Ailevon Pacific's very own Nicolás "Nico" Mirman, about his favorite industry moments. Nico has more than 15 years of industry experience and is the definition of an aviation "triple-threat" professional: experience working at four airlines, the TPA airport and air service consulting. Over the last couple years, he has been instrumental in building up Ailevon Pacific's Latin America portfolio. Get to know Nico a little better below and if you have more questions (in English or Spanish 🙂 ) — send him a note at Nicolas.mirman@ailevonpacific.com!
What is the best part of your job?
I think that it is a huge responsibility to help communities increase their connectivity to the rest of the world. After spending time working with clients, I really enjoy seeing how the strategies we discussed become a reality that have ripple effects beyond the airport itself and onto the whole community. It is very energizing.
Favorite Airport?
Can I go for two? On the domestic side I like LAX because of all the exotic airlines and aircraft you get to see there. Internationally, I would say Saint Martin (SXM) because how close you are from the landing planes while still on the beach.
Best piece of industry advice you have ever received?
One of the best pieces of advice I received in this job was that the best use of my expertise was to help to establish a smoother communication bridge between airports (and communities) and airlines, because that is the true value we can provide to our airport partners.
How many countries have you traveled to?
Good question…I think it is around 30…there are still plenty more to discover!
Tell us your craziest travel story:
There has been a lot of cool experiences especially when working on the airline side because of the travel benefits. I think that all airline employees enjoy the thrill of showing up at the airport and only then deciding where to travel to that weekend.
What is one of the best memories from your career?
I think the most satisfaction I had was after planning a specific new route and months later when I was actually sitting on the inaugural flight. Even today, I look at that market to see how it is performing.
What is your favorite aircraft type?
I like the 757s a lot. Technically and comfort wise it is such a good aircraft. It is proving to be harder to replace too! I will also mention the Fokker F-28s because that was the kind of plane Aerolineas Argentinas used to fly to Rio Cuarto (RCU) when I was a kid.